Zachary, 2, Congenital Diaphragmatic Hernia (CDH)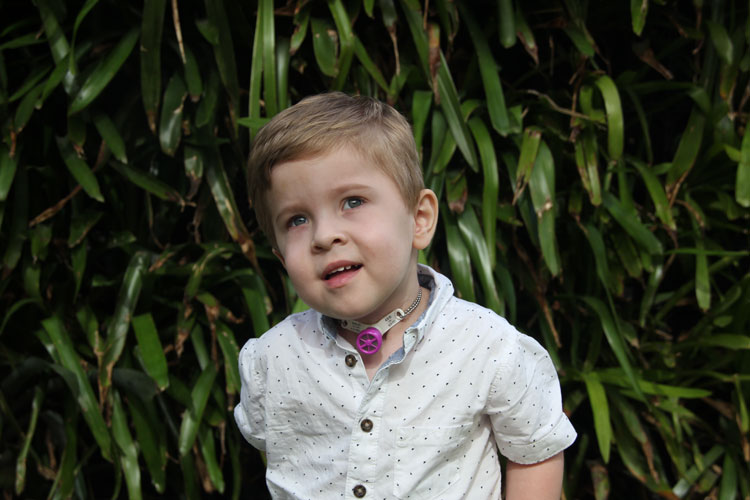 Zachary was born with a rare medical condition called Congenital Diaphragmatic Hernia (CDH) which is a hole in his diaphragm. The condition affects one in 2,500 pregnancies and for Zachary, meant his liver moved into his chest, causing his lungs not to have room to develop.
Little Zachary was given a 10% chance of survival at his mum Amanda's 20-week scan, which increased to 50% at birth. After he was born in March 2015 he was placed onto ECMO (heart/lung bypass, life support) at Lady Cilento Children's Hospital where the Paediatric Intensive Care Unit (PICU) would be his home for the next 12 months.
Zachary had his first life-saving surgery at just one day old – a procedure to repair his hernia and the following year he underwent an additional six lifesaving procedures. At this time he also developed tracheomalacia (a soft and floppy windpipe) which meant he required the support of a ventilator 24 hours a day.
"Zachary has spent more than 365 in hospital. Since leaving, Zachary's lungs have continued to strengthen. He no longer needs a ventilator 24 hours a day, just at night now. He is currently building up to require no extra oxygen during the day. His speech pathologist, physiotherapist and occupational therapist have been surprised with his fast progress. He is now close to meeting the normal developmental milestones, despite being confined to a bed for almost his first year.
"Zachary is a mischievous, adventurous 2 year old who doesn't want to miss out. He loves being at home and playing with his big sister Nicola. He still has regular reviews at the hospital, and each time there is improvement. It really shows how amazing he is and how far he has come," his mum Amanda said.
Patient stories
Select a patient below to read their story.